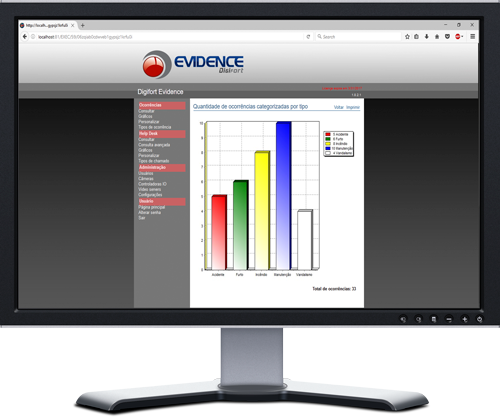 EVIDENCE
Digifort Evidence is an optional module of the Digifort system that allows the classification and documentation of events occurring in the monitoring system, including the archiving and organization of videos and any file related to the occurrence for subsequent research, management reports and statistics.
With Digifort Evidence, customers can reduce their costs of archiving images, reduce the search time of occurrences and greater availability of information related to the event, as well as greater organization of the documentation of these events and a broad view of the events that occurred.

Main Resources
Opening of bulletin of occurrence of the events occurred with videos, documents and images;
Generates reports and statistical graphs of recorded occurrences, based on user-specified filters;
Allows creation of custom fields for the system;
Querying occurrences by type such as date, time, camera or event text;
Print of event bulletin with customized logo of the customer;
Integrated with the Digifort Professional and Enterprise camera management system.